insurance
ofsted
bank info
Ofsted URN
2545707
next steps

parent links
After completing my Nursery Nursing qualification, I worked as a residential matron at a private school, then briefly at a nursery before working in a high street bank. I joined Young Sussex in May 1992 to help set up and manage the new nursery.
I later became an NVQ Assessor, helping many of the staff through their NVQ2 and 3s, before completing my Level 4 Certificate of Early Years Practice through the Open University in 2007.
I have lived in Southwick and Shoreham all my life, and still live locally. I have had a life long involvement in the Brownies and Guides, but having retired from an active role, I now spend my time on my many crafts such as crocheting and card making!
Nursery Manager
Sarah Burt
"Partnerships with parents are clearly valued and nurtured. Parents show delight in the nursery and they are very positive about their children's progress, the activities available and staff dedication." - Read the full Ofsted report here
Young Sussex Nursery Shoreham
Young Sussex Nursery Shoreham opened 1992, and operates from a detached property in a picturesque setting on the edge of Buckingham Park. The nursery is set over two floors offering light, bright, well-appointed and homely spaces for children to explore.
The nursery has its own secure, all weather outdoor play area to the front of the property, a smaller area to the north protected from the summer sun, and is also adjacent to the park's own playground.
We are proud to be a long standing part of the local community, and with an average length of service of nearly 9 years each, our staff are proud to be a long standing part of Young Sussex.
Babies and Young Toddlers
Our Tweets cruise the first floor. They have their own kitchen and sleep room as well as play areas to explore and pretend, to be creative or just share with their friends.
An eclectic range of sensory resources ensure that the youngest of children can investigate in a variety of ways through the use of malleable and creative materials.
Toddlers and Preschool
The Hoots rule the ground floor, having the opportunity to investigate the areas of learning in a clearly defined environment. Play spaces are equipped to support the children's understanding of these areas and prepare them for their transition to school.
The Hoots are encouraged to be independent and are given the opportunity to make choices in their learning, with support and guidance from experienced Early Years Practitioners. They have access to an IT area and role play area, as well as model making materials, puzzles, games, toys and books.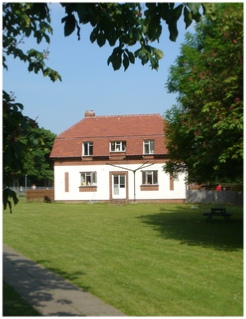 Young Sussex Nursery Shoreham was formerly the Buckingham Park Café with the groundskeeper's flat above, before Adur Council invited us to run a nursery on the site.